Allegheny Front Hawk Watch

Pan right to see entire view off of the Allegheny Front Hawk Watch.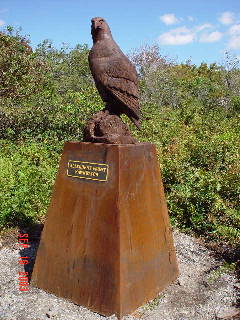 Allegheny Front Hawk Watch is a privately owned 5 acre site situated on the edge of the Allegheny Front. It is located at 40 degrees 04' N latitude, 78 degrees 43' W longitude and is approximately 4 miles southeast of Central City, Somerset County, Pennsylvania. The high elevation (2780') allows close views of hawks and eagles. This scenic site is maintained by members of the Allegheny Plateau Audubon Society. The hawk watch is dedicated to the study of spring and fall raptor migration along the Allegheny Front and to public education about raptors (i.e., hawks, eagles and falcons). Allegheny Front is noted for its high spring and fall Golden Eagle counts. Other raptor species commonly seen at the watch at the appropriate times during migration include Osprey, Bald Eagle, Northern Harrier, Sharp-shinned Hawk, Cooper's Hawk, Red-shouldered Hawk, Broad-winged Hawk, Red-tailed Hawk and American Kestrel. Rarer species include Northern Goshawk, Rough-legged Hawk, Merlin and Peregrine Falcon. Although Allegheny Front Hawk Watch is primarily for use by members of the Allegheny Plateau Audubon Society, visitors are always welcome. Our counters have the reputation of being informative and friendly. Handicapped parking is available. However, due to limited parking, groups need to register ahead for dates by e-mailing the chapter. The hawk watch is maintained 7 days a week from late August 15 through November 30. A spring hawk watch with less coverage usually runs from late February to late April, depending on weather conditions. Visitors are welcome as long as counters are present. However, since this is private property, there is no overnight camping at the site and visitors must leave when the counters close down for the day.
A new single day record flight of Golden Eagles at Allegheny Front Hawk Watch was set on 23 November 2003 when 51 Golden Eagles flew past the site. The old single day site record was 33 Golden Eagles. The lucky observers were quite delighted by the flight! Here is a table showing the annual totals for raptors counted at Allegheny Front Hawk Watch through the years.
Other interesting birds and animals , inclucing an albino gray squirrel, occasionally show up at Allegheny Hawk Watch that are not raptors. These are also noted when they visit the site. Counts are also maintained of migrating Ruby-throated Hummingbirds and Monarch butterflies.
---
Return to McConaughy's Birding Page
Counting since 2 March 2004.
Free Web Counters