Record Golden Eagle Day
Allegheny Front Hawk Watch
23 November 2003
Photographs by Mark A. McConaughy
A record Golden Eagle flight was recorded at Allegheny Front Hawk Watch on 23 November 2003. A total of 51 Golden Eagles flew past the site smashing the old site single day record of 33. A moderate southeast wind provided the eagles with the impetus to fly along the Allegheny Front on that date. The following photos are shots of some, but not all, of the Golden Eagles seen that day. All of the photographs were taken with a digital camera with the lens setting at 10X. The photos have been trimmed to speed loading of the shots for dial up connections. All of the Golden Eagles seen on 23 November 2003 were naked eye birds. It was a wonderful day at the site.
---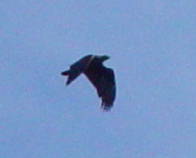 This was the first Golden Eagle (and first raptor) of the day. It was an adult that flew by at 10:39 AM.
---
I've had to delete the shots of most of the Golden Eagles from this day to save web space. If anyone wants to see them, email me for copies.
---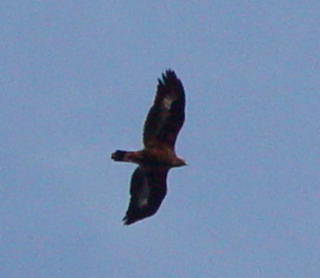 The 51st and last Golden Eagle of the day was this immature specimen. The fat eagle sang at 4:16 PM and the day ended with this bird!
---
Return to the Allegheny Front Hawk Watch Home Page