Mark McConaughy's Home Page
Welcome to Mark's home page. This is an August 2005 shot of your host.
I work for the following individuals who run the house and my Home Page.
I went to the Western Pennsylvania Humane Society on 14 August 2005 and adopted two cats to liven up the place. I recommend folks adopt animals at their local humane associations or pounds. They make great pets and need good homes. The Western Pennsylvania Human Society web site is at:

http://www.wpahumane.org/
This is Django (the "D" is silent - pronounced Jango),. He was named Lord Chaos by his previous owners. I changed his name to Django after a Spaghetti Western hero who usually wore dark clothes. It also is a name George Lucas borrowed for use in the Star Wars sagas as the name of the bounty hunter, Jango Fett, who was the template for the clone army. Django was around 3.5 years old when I adopted him, according to the Humane Society.
This cute little girl was named Misti by her previous owners, and I will continue to use that name for her. Misti was around 8 years old when I adopted her, according to the Humane Society.
---
In memory of m beloved Bubby II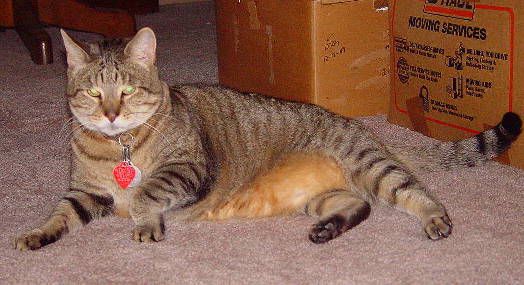 Bubby was getting thinner and thinner. I took him to the vet on Friday, September 4, 2009, because he did not look well. They ran blood tests and took xrays, but couldn't find anything wrong with him except that he was dehydrated. They rehydrated him and sent him home with me. Bubby died sometime over the night between the 4th and the morning of the 5th. I found him downstairs, dead on the floor when I came down on the 5th. I suspect he had a cancer, but he may just have died of old age. I had Bubby for 17 wonderful years, and he was at least a 1 year old when I acquired him as a stray in Harrisburg, Pennsylvania. He was the last of the Harrisburg cats. Bubby II was actually the brother of Bubby I, a female that a friend took in in Harrisburg. They looked alike, so I kept the name she gave to her cat for Bubby II. He adapted to indoor life, since all my cats are indoor cats. In many ways he was the most inquisative of the batch -- always getting into things and investigating anything new brought into the house. I really miss him and it took a long while for me just to work up to writing this obituary.
In memory of my beloved Katmandu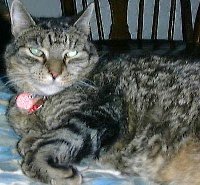 I had to put Katmandu to sleep at 12:06 PM on 22 October 2003. Katmandu came down with megacolon condition this summer (2003) and was gradually wasting away. He fought back for as long as he could and for as long as the medications helped. However, it was apparent that he had something more wrong with him when he began to pass a lot of blood in his stool. He stopped eating and drinking altogether, and I decided it was time to to say goodby. Katmandu came to me as a starving stray in the summer of 1995 while I was living in Harrisburg, Pennsylvania. He was an abandoned cat since he had been fixed and had his front claws removed when he came to me. Katmandu also was likely abused by his previous owners. It took him a long time before he felt comfortable playing games with me. He also would run and hide whenever there were loud noises or loud voices on the TV that seemed to be arguing. However, he did come around and became the primary lap cat after Maynard's death. I don't know how old Katmandu really was, but he definitely was an elderly cat when he died. I will miss his companionship.
In Memory of my beloved Maynard G. Krebs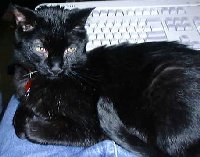 It was not a happy Christmas in 2001. Maynard stopped eating on Christmas Eve and would not eat after that. I had to take him in to an emergency vet clinic where they discovered that most of his systems had shut down. They recommended that he be put to sleep. I made the decision to keep him from suffering any further and had him put to sleep at 10:37 AM on 26 December 2001 at the age of 16 3/4s. I was holding him as they administered the drugs to put his to sleep. Maynard was named for the Dobby Gillis character, Maynard G. Krebs (played by Bob Denver), a beatnik who was always getting into trouble. Maynard was the kitten of a friend's cat that was given to me. He was born (and is the only cat of mine that I do know when he was born) in April 1985. He was part Siamese and part American Shorthair. The Siamese in him made Maynard the most vocal of all my cats. He would "talk" to me and the other cats. In his younger years, he was a real character and usually lived up to his name sake. He also was the top cat in the household from the day he arrived as a kitten until the final year of his life when he lost use of his hind end to paralysis. Pusscat and Maynard were the two cats I obtained when I was living in Illinois. They made the trip with me back to Harrisburg and finally to Pittsburgh where I currently reside. Maynard's passing leaves a great void in the household.
In Memory of my beloved Pusscat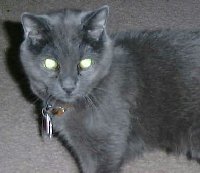 Pusscat, my loving little girl, was put to sleep at 7 PM on 3 February 1999. Her kidneys failed over the preceding weekend. My veternarian did his best to revive her. Unfortunately, it was not to be. The decision to put her to sleep or let her die a slow, painful death had to be made. I made the decision to put her to sleep on the afternoon of 3 February 1999. I was able to spend some time with her that evening and held her as they administered the solution. She died in my arms.
Pusscat was a stray who adopted me in June, 1983 in Springfield, Illinois. She was an adult cat at that time. She moved with me to Harrisburg in 1986 and back to Pittsburgh in 1997. Pusscat was the sweetest and best tempered cat I have ever known. Her steely gray fur was soft as silk. Pusscat always greeted me at the door when I came home from work. In her older years, she was my favorite lap cat. Pusscat was over 16 years old when she died, an old age for a cat. She will be greatly missed.
About me and this Page
I have a job as an archaeologist and currently review possible impacts to cultural resources by strip mining in Western Pennsylvania for the Bureau for Historic Preservation, Pennsylvania Historical and Museum Commission. Through the years I've conducted or been part of archaeological projects in Pennsylvania, West Virginia, Indiana, Illinois, Peru and Jordan. My primary research interests are in the Woodland Period of the Eastern United States, development of complex societies along the north coast of Peru and the Early Bronze Age of the Levant.
I am also an avid birder and compile the Central Pennsylvania Birdline. The birdline is usually updated on Thursdays so the information is available to birders for the upcoming weekend. The Central Pennsylvania Birdline can be reached at 717-255-1212 ext. 5761 or obtained by subscription to the PABIRDS or BIRDEAST listservs. You can see the current birdline by clicking on the link below.
Bushy Run Battlefield Park is operated by the Pennsylvania Historical and Museum Commission. My office is located in the white house at the park. Each summer they hold a reenactment of the Battle of Bushy Run. There is a link below that will take you to page that briefly describes the Battle of Bushy Run and has links to pictures of the reenactment staged on 3 August 1998.

McConaughy's Archaeology Page

McConaughy's Birding Page
Current edition of the Central Pennsylvania Birdline

Bushy Run Battle Reenactment

Index page to pictures of a Pennsylvania Strip Mine currently in operation.


If you have any questions about my pages you can contact me at:
TimeTraveler@email.msn.com

Counting since 2 March 2004.
Netflick