ROSS'S GOOSE
Chen rossii
Luxor Pond, Westmoreland County, PA
20-21 October 1999
by Mark A. McConaughy
Dennis Lauffer spotted a Ross's Goose at Luxor Pond on the west side of the village of Luxor in Westmoreland County on the morning of 20 October 1999. I stopped at Luxor Pond after work on 20 October and it was still present. Unfortunately, I did not have my equipment with me that day for photographing the bird. I hoped the bird would stick around so I could get some photos of the bird. Fortunately, it did, and I was able to photograph the bird after work on 21 October 1999. However, the Ross's Goose was not real close, and the digital camera photos are the best I could get through my scope under the circumstances. The long distance of the shots resulted in reduced resolution because the bird's image was composed of fewer pixels than if it had been closer to me.
The Ross's Goose was seen lying down with its head tucked up under a wing on the 20th between 4:15 and 4:45 PM. It was also observed swimming in the pond, preening and standing/sitting on the shore on the 21st between 4:15 and 5 PM. The Ross's Goose clearly was smaller than the Canada Geese and a white domestic goose that were also present. It was closer in size to the local mallards, but with a longer neck. The bird was all white except for having black-tipped (black primaries) wings. It had a small, triangular-shaped, pink beak with a very noticeable (at least through the scope) bluish warty area at the base of the beak. There was NO grin line as is found on beaks of Snow Geese. The legs were pink. It was an adult Ross's Goose.
---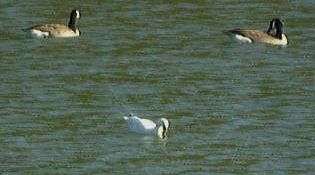 This shot shows the Ross's Goose swimming in front of several clearly larger Canada Geese. The black-tipped wings can barely be made out in this photo.
---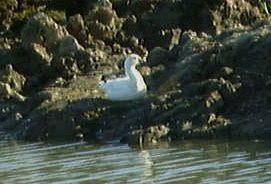 The Ross's Goose is sitting on the shore in this photo and provides a profile of its triangular-shaped pink bill. The bluish warty area around the base of the bill does not show up well due to the low resolution of the photo caused by the distances involved.
---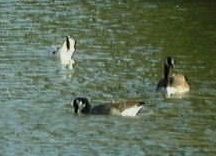 This shot is not the best, but it shows the bird preening near a couple of Canada Geese. While preening the Ross's Goose lifted its wing and the photo shows the black primaries that are characteristic of the species.
---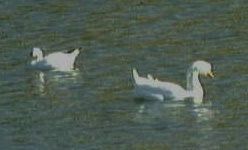 Another poor shot. Nonetheless, it provides some important comparative information. The shot has the domestic goose on the right and the Ross's Goose on the left. The Ross's Goose is clearly smaller. The black wing tips can be seen in the folded wing of the Ross's Goose. Also, the darker splotch at the base of the bill is the warty bluish area that is typical of the Ross's Goose. It came out dark due to the low resolution of the photo.
---
Return to McConaughy's Birding Page
Return to McConaughy's Home Page