Differences in the Road Star and Warrior Starter Relays
'


'

If you are upgrading to a Warrior starter for your Road Star and upgrading the starter relay as well
Please, watch out for the following differences which are present when purchasing a Warrior starter relay.
'


'
On the Left is my original relay, (1999), Road Star. On the Right is a new 2003 model Warrior Relay.
At first glance not much of a difference, but look closely at upper terminals.
Notice that the original has the charging connection on the Right while the New one has the silver colored charging connection on the Left when looking at both head on.

Your RED battery cable must be connected to the silver looking terminal.
Ok! Now What. We can reverse the Black and Red cables or we can do the following after removing your old relay.
'
'


 
'
'
Here are the relays side by side with the charging blocks removed. It simply unsnaps, then it wiggles off the relay.
Left = original with silver connector on the right.
Right = New relay with silver connector on left.
Also notice the rubber mounts. The original presses down onto the bike while the Warrior relay pushes into the bike.
'
'


'
'
Rear view of the charging blocks. Notice how BOTH of the terminals are strapped together, (bottom silver strip in both photos), then it goes into the fuse and out the other side of the fuse to the terminal ring.
'


'
Here I've removed the rubber mounts. just slip them off.
'
'
'

''
I've taken the original rubber mount and slipped it onto the new relay.
'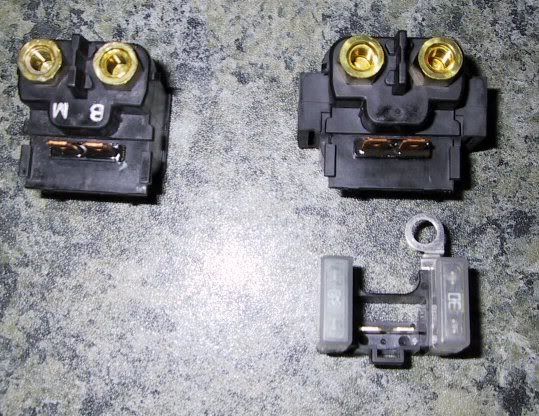 '
'
Take the connector from the old relay and make sure that the silver colored ring that sticks out of the top of the block is clean.
Snap the old charging block onto the new relay and you're finished.
'


'
You can now install the new heavy duty Warrior starter relay into your early model Road Star without having to rearrange any of the wiring.
Now how simple was that?
After examining the two side by side and checking the wire routing and plug connections it took less than 5 minutes to do this conversion.
Please use caution when working on the electrical system. Disconnect the Negative battery cable and insure that it is not in proximity to the battery.
V52
'
Vince Sbordone - copyright 2007